Book private lessons with Elly. She offers expert tuition in a wide range of dance styles. She is qualified with FATD, NZFDT and SATD in Ballroom, Latin American, Classical Sequence and New Vogue.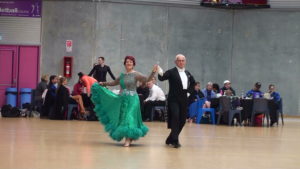 Whether you are a competition dancer wanting to extend your skills, a social dancer wishing to expand your repertoire or a beginner contemplating taking those first steps into the world of partner dancing, she is ready, willing and able to give you her undivided attention and assist you achieve your objectives.
She caters specifically for:
Singles, couples or groups
Customised choreography requirements
Competition training / coaching
Here is Elly performing The Mayfair Quickstep (a classical sequence dance):
Testimonial
Elly-Ann Pritchard – dance teacher supremo!
Elly-Ann taught us Ballroom, Latin, New Vogue and Classical Sequence dancing over a number of years while she was living in Wellington. We found her to be:
• Fun
• Enthusiastic
• Encouraging
• She taught at the level we were currently at and lifted our dancing standard to a whole new level.
• Moreover, she is a qualified Classical Sequence tutor and there are very few such tutors in New Zealand.
We endorse her as a brilliant mentor, encourager and tutor and her pupils are very lucky to have her.
Faith & John Lawton
Raumati Beach
Kapiti Coast