First Dance Lessons and Private Lessons recommence this week
I am so delighted to be able to return to teaching you the joy of partner dancing.
If you are interested in private lessons in all the ballroom, latin, new vogue (including The Presidents Daughter) and even classical sequence dances do call/email and lets have a chat. I am happy to dance lead and follow so all aspects of the dances are coverered.
Or if you are now finally able to rearrange your wedding and want a little something to wow and amaze your guests do call/email. Not all wedding dances need lots of lessons. Some couples just need a few steps and some confidence.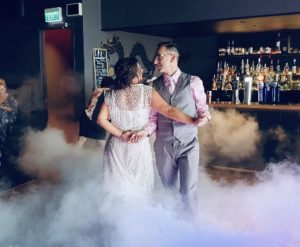 For all wedding dances your music choice determines what style of dance is best and in some cases it also means a little more effort is needed to learn some specific moves/variations, such as the move above. Not all moves suit every song, every wedding dress or even the floor you will be dancing on. Its always best to dance to a song that means something to you both and leave the choreography to me. I will always ask if you have any moves/variations that you do want to do and if possible incorporate them into something special for you.
I have lesson times available on Wednesday and Thursday evenings in Tauranga.
Contact
Elly (027 215 1430) or hi@dancecompany.co.nz