Looking for just a little help for your first dance?
Not every couple wants a fully choreographed wedding routine. You might just want a few moves and variations that you can use both at your big day or at any other social occasion when dancing might happen. Just like Alice and Jamie.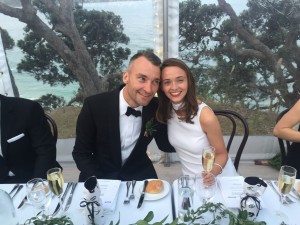 In Jamie's case dancing in public, even in front of friends and family, was something he really wasn't looking forward to. So he came to a few lessons by himself, not to learn a routine or steps, but to gain enough confidence so he could take Alice out on the floor.
They said "it went well and as you know it was pretty short before (our) parents stepped in. Thank you so much for your time and confidence building!"
So if all you need is a little confidence; some help to get out onto the floor please call or email. I teach in small private studios and I'm sure I can help. I am available for Sunday lessons in November. There are only a limited number of times available starting late in the day. I can either teach you some moves that work with the song you have chosen – or moves that will work well with any modern music.
Contact
Elly (027 215 1430) or hi@dancecompany.co.nz