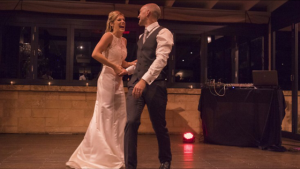 Please don't think you have to already know how to partner dance to have a Wedding/First dance.
A few months ago I had a wonderful woman email me and say:
"I feel very uncomfortable dancing and have said to my partner, I will get some lessons and if I still cant get it, we probably wont be having a first dance at all"
I arranged a chat with her and her partner and we set up some lesson times. After their first lesson, last week, I received the following:
Hi Elly,
Thank you so much for your patience and making us feel relaxed and comfortable at our first lesson, I'm looking forward to the next one 🙂
Jacqueline
I was so pleased. They have chosen a great song to dance to and they will look wonderful on the day.
I'm teaching in Tauranga and in Auckland, so if you want to discuss what you want on your wedding day please contact me Elly (027 215 1430) or hi@dancecompany.co.nz