Jess and Sol
Early this year Jess and Sol performed their wedding dance. This photo typified the fun we all had putting together "Crazy Little Thing Called Love" by Queen.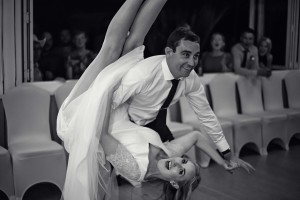 This is the last move they did in their routine and it works well with her soft dress and their music choice. Check out the faces of the audience in the background, they didn't see this coming.
For all wedding dances your music choice determines what style of dance is best and in some cases it also means a little more effort is needed to learn some specific moves/variations, such as the move above. Not all moves suit every song, every wedding dress or even the floor you will be dancing on. Its always best to dance to a song that means something to you both and leave the choreography to me. I will always ask if you have any moves/variations that you do want to do and if possible incorporate them into something special for you.
I am fully booked now for February, however there is still some times free in March if you are looking for a little help with your wedding dance, even just a single lesson.
Contact
Elly (027 215 1430) or hi@dancecompany.co.nz